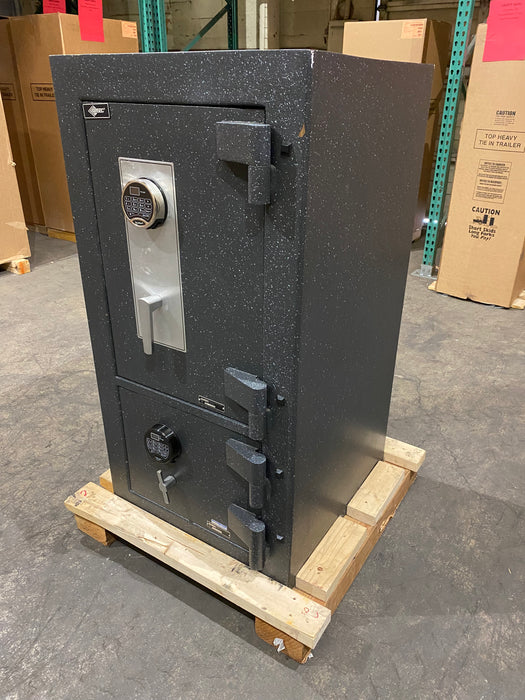 USED - AMSEC | ACF4824DS - TL-30 Two Door Depository Safe - 2 Hour Fire Rating
Save

39

%
Save

39

%
Original price
$11,410.00
Original price
$11,410.00
-
Original price
$11,410.00
Original price
$11,410.00
USED

- AMSEC ACF4824DS
TL-30 - Double Door Depository Safe
Dimensions:
Outside: 47.75" H X 24.50" W X 25.75" D
Inside: 40.00" H X 18.00" W X 15.00" D
Interior Cubic Feet: 6.25
Weight:

 

1746.00

Burglar Rating: TL-30
Fire Rating: 2 Hours
(Top and Bottom locks are Securam Prologic digital locks)
AMSEC's ACF TL-30 double door depository safe offers complete cash management versatility for any operation that requires a nonreturnable deposit such as armored car companies, convenience stores, restaurants, etc. This U.L. listed TL-30 composite construction depository safe offers peace of mind when overnight protection is required.
In addition to the outstanding features listed under the ACF TL-30 Money Chest, the ACF4824DS Deposit safe also offers:
Top Deposit/Storage Compartment
Outer door equipped with a U.L. listed Group II combination lock and chrome plated front read dial.
Large storage capacity: accommodates up to nine cash register trays.
Large 3" x 18" deposit chute is protected by an "anti-fish", saw-tooth, hinged baffle.
Two adjustable shelves.
Door mounted four-opening rolled coin storage rack.
Bottom Receiving Compartment
Outer door equipped with a U.L. listed Group II combination lock, chrome plated front read dial and an auxiliary key-op lock for dual control or armored car pick up.
Anchor holes / Pre-drilled.
* Add 2" to outside depth for handle, dial and hinge projection.
** DS=Double Door Depository Safe.
The AMSEC ACF4824DS Double Door Depository Safe is designed for high security of a businesses cash or other valuable assets. It's overall design is protective and functional. The top deposit/storage compartment features a large storage capacity that accommodates up to nine cash trays on two shelves in its 26" x 18" x 14" size. The large anti-fish concealed drop (3" x 18") is in the rear of the upper compartment and its contents are not accessible by those using that compartment. It also features a hinged baffle that thwarts any fishing attempts. The lower compartment is designed for the retention of the drops and can be set up for an armor car pickup.
This U.L. rated TL-30 High Security Deposit Safe boasts a TL-30 Underwriters Laboratories burglary label which is one the best burglar ratings. This high security rating provides the user great peace mind as well as an excellent method of cash control.
The AMSEC Model ACF 4824DS Deposit Safe is constructed of a high density composite material which not only provides storage of overnight cash, but also provides a two hour factory fire rating. The door is 5.5 inches thick while the body is 3.5 inches and is constructed with outer and inner steel plates. The door jambs contain special solid steel bars. All of these are nice features for that "peace of mind". There is also a coin storage feature. The AMSEC U.L. rated TL-30 High Security Depository Safe boasts of many other security features. These include a U.L. Group II combination lock that is protected by a special steel hard plate. A bolt tensioner is another standard feature that keeps the massive 5 1" bolts retracted in the open position. There is also a solid steel dead bar that prevents the door being removed if the hinges are removed. The ball bearing hinges make the door open and close with ease and vertical height adjustments can be made with alloy dowel pins.